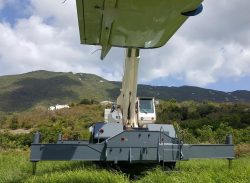 Jackson's Crane Service Plus offers an array of services for crane loading. We work with contractors, sub-contractors, the general public and private sectors throughout the Virgin Islands to deliver top-quality crane services in St. Thomas, VI. We have been providing this safe, quality service since 1997. Our full line of professional projects includes:
Crane Rentals
Need to get a big task done but don't have the right equipment for the job? Jackson's Crane Service Plus has you covered. Whether you are a large commercial operation or an individual homeowner, we are your perfect partner for your project. We provide the crane rentals in St. Thomas, VI that you need to get it done right.
Our comprehensive crane rentals include a variety of cranes to suit any job. We provide the following crane rental options:
14-ton Boom Truck
28-ton Manitex Boom Truck
35-ton Groove RT-735
100-ton Terex RT 1000
As your trusted crane supplier, Jackson's Crane Service Plus offers industry-leading equipment from the following leading brands:
Grove Cranes
Manitowoc
Terex Cranes
Crane Services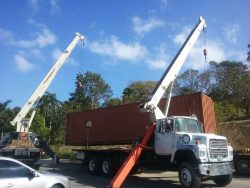 Jackson's Crane Service Plus is your go-to source for crane rental services in St. Thomas, VI. We offer heavy equipment lifting in St. Thomas, VI, alternative lifting, equipment moving, and plant turnarounds/outage planning and shutdowns. Our crane operators are certified as a crane operator and machine operator. We offer the expertise required to deliver professional, timely, efficient and cost-effective services. Our personalized approach creates strong, lasting relationships with our customers.
When there's a big job to do, Jackson's Crane Service Plus is ready to assist you. We remove stress and add cost-saving expertise. Contact us for equipment rental and services that help your project run smoothly and efficiently.
Reach our knowledgeable staff today at 340-714-3060. We are happy to schedule a free consultation or estimate.